Brooke's 60 Second Sleaze - June 19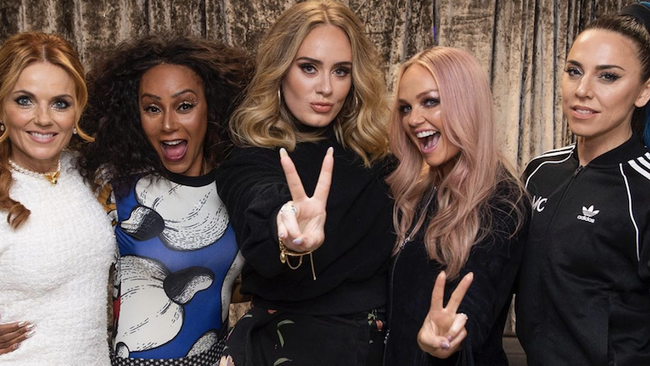 PICS: Adele's lost 14 lbs after taking up pilates post marriage split
Taylor Swift opens up about how she and Katy Perry RECONCILED & how she asked Katy to be in the video! "We had grown past allowing ourselves to be pitted against each other."
Lindsay Lohan's Mykonos beach club is OVER & her MTV show got canceled too!
Jim Carrey refuses to TAKE PICTURES with fans & doesn't feel bad about it! He's not the only one….Chris Pratt, Jennifer Lawrence, Amy Schumer, Emma Watson, Panic! at the Disco, Emily Blunt, Frances McDormand, Amy Poehler, and "Game of Thrones" star Maisie Williams…and Justin Bieber says taking pics makes him feel like a "zoo animal"
VIDEO: Lin-Manuel Miranda freestyles last night on "The Tonight Show"! He has a new Broadway show called "Freestyle Love Supreme", that centers around his the improvisational hip-hop group he helped create
"The Bachelor"'s Melissa Rycroft falls ill with "fever and STOMACH CRAMPS" after traveling to the Dominican Republic
PICS: Rihanna showed up 3 hours late to her own Fenty launch!
PICS: Zendaya is now a red head
Whoopi Goldberg BLAMED Bella Thorne for someone hacking her nude photos because Whoopi said she shouldn't have taken them in the first place…Bella called the response "sick and disgusting"
Anderson Cooper will not INHERIT his late mother, Gloria Vanderbilt's estate!
A guy who worked at Epic Games tried to SCRAP "FORNITE" way back in 2011 because of how hard it was to make!
Tom Hanks & Rita Wilson want you to join them in doing MEAT FREE MONDAYS
The Jonas Brothers are out of their minds happy & thankful for their album debuting at #1!

Brooke and Jubal
Hear Brooke & Jubal every morning! Listen to their hilarious Phone Taps, Second Date, and more!
Read more